Project management can be tricky. 
Even though every software development process starts with a clearly defined scope of work, timelines, and milestones, there are very few projects that end on time. While sometimes it is because the development agency struggles with managing multiple projects, other times it can be clients-driven with them requesting new features addition or extending the feedback timeline. 
The outcome in both the instances is the same – delayed go-to-market time and a probability of losing users interest to competitors. 
In a space where launch fast, fail fast has become the primary mode of operation, it is critical for businesses to identify and overcome every project failure risk much before full-fledged launch.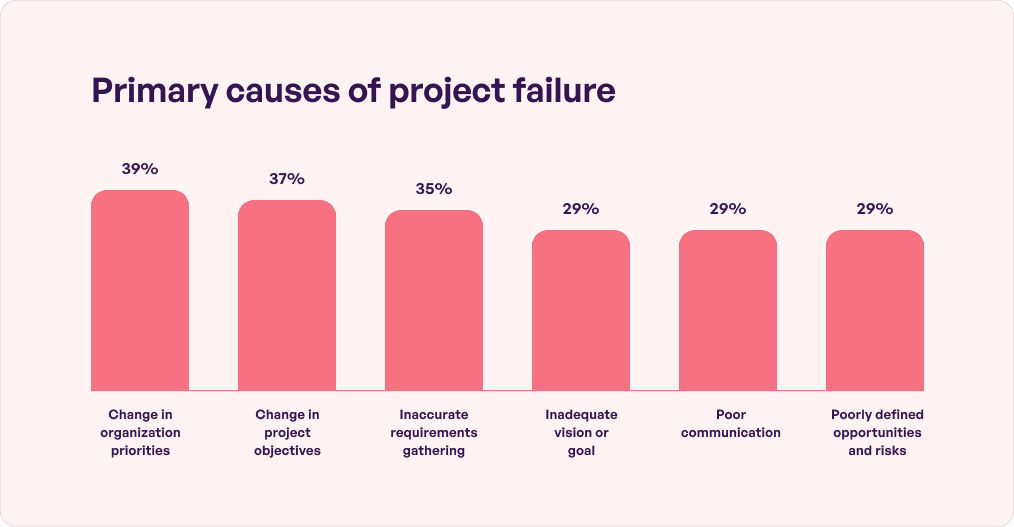 Having worked on over 70 digital solutions across a range of industries like Fintech, eCommerce, crypto-based applications, and social media, we have aced the project management approach. Here is the validation. 
Every single one of the 70 software have been delivered on time and in budget

Our clients have raised over $800k in funding 

4.8/5.0 average client rating on development and delivery experience.
In this article, we are going to dive into our project management methodologies that have helped achieve these numbers along with other factors like the project management tools we work with and how we tackle the typical challenges that emerge in project development.
The Project Management Process we Follow
Whether you are developing software or building a car, the five steps of the project management life cycle witnesses very limited changes. Even though because of the different project type, the phases outcome might vary, the main objective and end outcome remains same. 
Here's an overview of our project management approach.
Project initiation 
This is clearly the most critical stage of the agile project management methodology. The aim here is to find the purpose of the project, its goals, and perform research on its viability on both market and technical grounds. 
The best way to perform this stage and understand the goals and challenges is by outlining the project needs against the business goals and preferred outcomes. 
Project planning 
At this stage, we lay out every single detail of your project which goes on to become the foundation of the entire project development cycle. 
We start this phase by preparing the project scope on a work breakdown structure document that highlights tasks and the efforts that would go in performing them. Additionally, the document also contains information around tasks, resources, responsibilities, timelines, approval process, and deadlines.  
It is at this point that we also fix the project management tools we will use

Project Execution 
This is probably the lengthiest phase of every project management methodologies since it is where design and development happens. Here you will find our team collaborating, performing tasks, presenting them to you via weekly builds, and working on the edits. 
While the design and development teams work on the actual execution, the project manager that we allocate to your software would work on – 
Budget and timeline management

Resource planning

Change management

Quality management 

Internal review of deliverables

Meetings and communication facilitation.
In order to manage it all successfully, we make it our modus operandi to follow the project scope to its last detail. At the same time, we have two mandatory meetings – 
Daily meeting on team check-in, status update

Post build release meeting on timeline and budget reviews. 
At every stage we ensure that you are updated on how the project is moving, if there are any roadblocks, and the budget, resources details.  
Project Monitoring 
This stage of the agile project management process deals with ensuring that the project is running smoothly and everything is aligned with the initially planned scope of work. As a part of this stage, we keep an eye on –
Up until this point, every stage of the project development cycle involves you. Right from the conceptualization stage to execution and monitoring, you take the front seat in terms of how the project is progressing. 
Project Closure 
This stage is internal in nature. When we close a project, we don't just directly move to the next software development, we celebrate the success and retrospect the elements which could have been made better. 
On that aspect, every project is followed by a one-pager that contains details of – 
Project name 

Pre-decided goals 

Date of initiation 

Promised deadline vs actual deadline 

Project budget vs actual budget 

Team members and stakeholders involved

Project challenges and win. 
Now that we have looked at the different aspects of how our project management team takes care of your software development and launch project, it is equally important to focus on the challenges we come across and the way we address them to ensure our relationship with the client remains strong. 
As we close this article, let us look into the challenges our Simublade project management team encounter and some ways they solve them. 
The Project Management challenges we encounter
While it is known that every development project comes with its own set of unique technical or operational challenges, the issues around project management however, are fairly predictable. Here are some of the challenges we have faced in our history of being digital product development partners of both startups and enterprises. 
Too many priority items
One of the most commonly arising issues for us is multiple items becoming top priority. At times, clients take feedback from other stakeholders and come back with an urgency on re-prioritizing tasks.
The way we approach this is by first seeing if there is a scope in the current sprint to accommodate the change, if not we discuss the priority serialization with the clients again and help them understand the effects of priority changes on the development timeline.   
Scope creep 
Project scope creep usually happens when new features start getting added in the development cycle frequently. The issue with these frequent changes can be seen in the project being at risk of late completion, over budgeting and lack in quality. 
The solution to this is treating the project scope as bible and being transparent with the clients about the impact of scope creep on their budget and timelines. 
Last-minute budget changes
Sometimes the client tells us mid-way that they have a much lower budget than they originally anticipated for the project development. In such cases, we sit with our clients to discuss the new scope of work while ensuring that Simublade project developers team leave no stones unturned in guaranteeing high quality standards.
With this, we are sure you must have gotten an idea of how we approach project management. The end goal for us is ultimately to maintain complete transparency and ensure collaboration within the internal and external stakeholders and how we achieve this by using the right project management software and a team that has an experience of working with multiple projects with their own set of complexities. 
Looking for a similar skilled team for handling your software project? Get in touch with us today.