Even after establishing itself as a market that is soon going to be US$5.56tn, eCommerce remains open for new entrants. To remain and ace this highly competitive industry, there are a few ways businesses are approaching their offerings – cost and option advantage, innovative tech integration, new feature addition, or quick and transparent delivery.
There is one application that has almost every single of these offerings and the results are showing. With over 100 million active users, Temu has become one of the most used eCommerce applications in every area it is operationable in. As a result, building an app like Temu has become a part of every entrepreneur's target.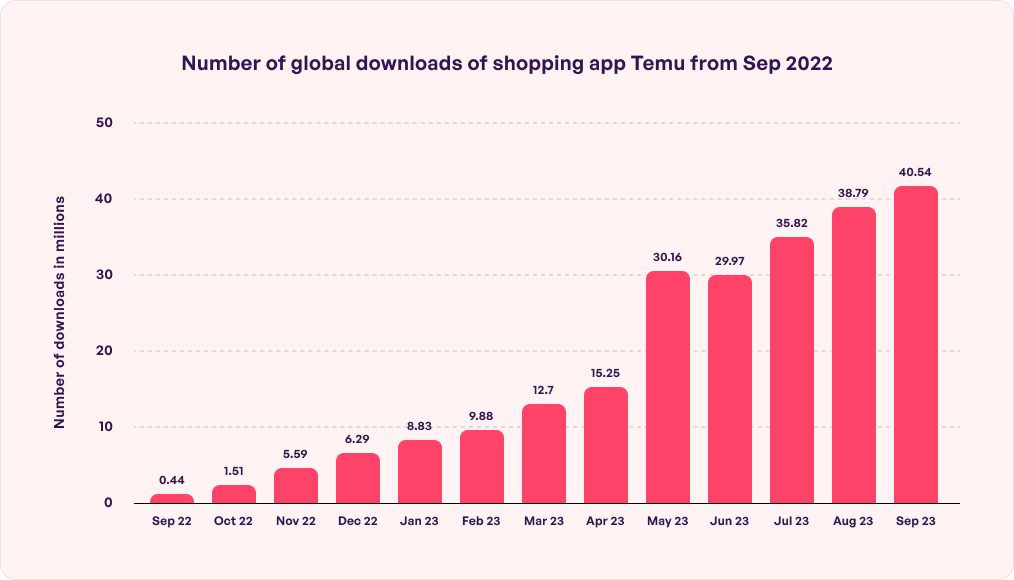 Now the first question that comes to mind when an entrepreneur thinks of creating shopping apps like Temu, the first thing they think of is the cost of Temu like app development.
Let us look at the pricing points first and then backtrack into the elements that go into fixing that range.
How much does Temu app development costs?
The cost of creating something very similar to Temu shopping app, will cost anywhere between $50k to $120k based on the feature sets, project complexities, and technology additions, etc.
Here's a rundown of the price range depending on the online shopping app development process.
Project Planning and Research: This phase can take anywhere from 20-80 hours, depending on the complexity of the project. At an average development rate of $50-$150 per hour, this would cost $1,000 to $12,000.
Design (UI/UX): Design work typically ranges from 100-300 hours or more, with costs between $5,000 and $30,000 or higher.
Development: The development phase can be quite extensive. For a basic ecommerce app, it might take 400-800 hours or more. Costs could range from $20,000 to $80,000 or more.
Testing: Quality assurance and testing can be 100-200 hours or more, costing $5,000 to $10,000 or higher.
Backend Development: Depending on the complexity of the app, the backend development can take 200-500+ hours. Costs might range from $10,000 to $25,000 or more.
Integration of APIs: Integration of APIs like payment gateways can take an additional 40-80 hours, costing around $2,000 to $4,000.
Deployment and Launch: This phase includes app deployment and launch, which might take 20-40 hours, costing around $1,000 to $2,000.
Post-Launch Maintenance and Updates: Ongoing maintenance and updates are crucial and can cost around 20-40 hours per month or more, depending on your needs.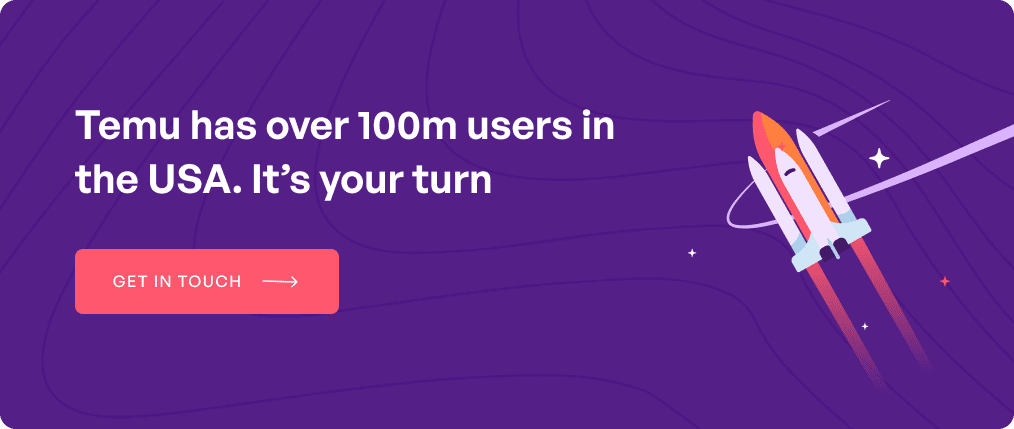 Now that we have looked into the Temu like app development cost on a high-level, let us get down to the elements that went into it.
The must-have features of online shopping app like Temu
When you create an online marketplace app like Temu, you are investing in two versions – Admin and Customer-focused. While the end-goal in both the versions is the same like in every eCommerce application, there are some elements that are an add-on in Temu. Let us combine the features and look at them together.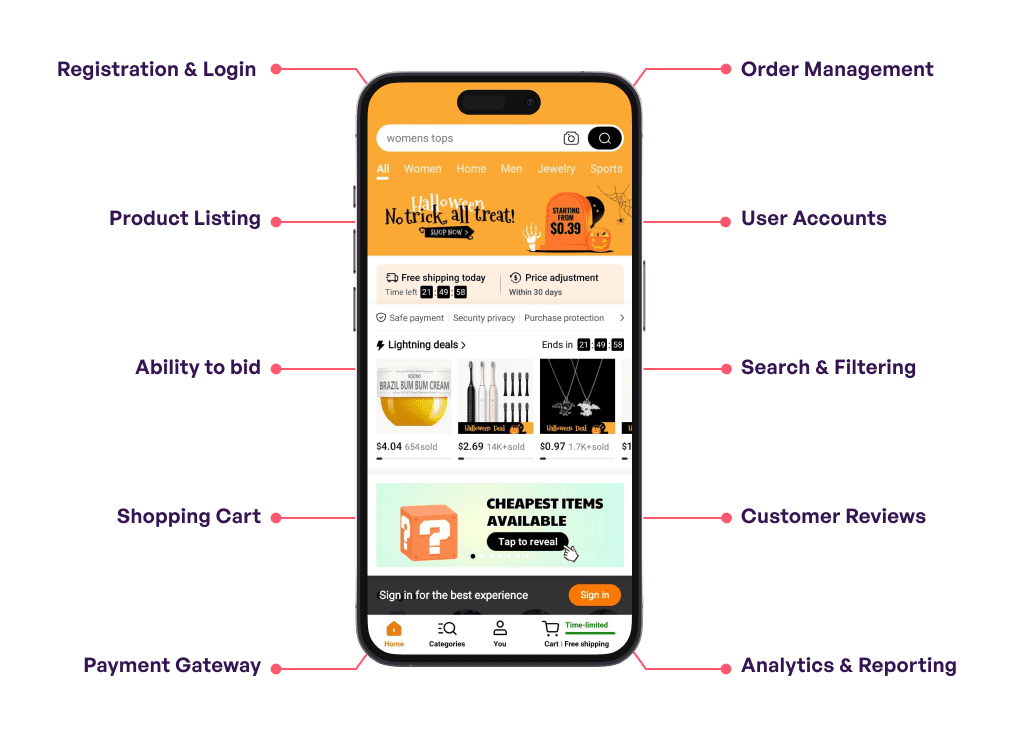 Registration and login
54% of retail companies have become victims of at least one or more successful cyber attacks. Now while there can be a number of origins of these attacks, one of the best ways to secure your application is to incorporate multi-factor authentication techniques such as login through email or social media and have pin-based or fingerprint entry.
Search and filtering
After registering, the first step that users typically take is to search for a product. At Simublade, we build the search option to be highly intuitive through NLP functionalities, making it easier for the customers to get the products they are looking for even when they have entered the wrong spelling or a long description instead of the product's name.
Product listing
The next critical part of the online shopping app development lies in having an insightful product listings page, one which carries basic product information, price, approximate delivery date, and rating. The idea is that the users can click on a product from here and get to the detailed product page carrying specifications about the item.
Ability to bid
While this feature is seller-focused, it is one of the defining elements of an app similar to Temu. With a strategy based around using price as its strength, Temu offers a price bidding model to ensure all the products for sale on the platform are priced as low as possible.
Every week, Temu allows the sellers to bid, and give those offering the lowest prices the exclusive right to sell their product on the platform. Once products are listed, the platform advertises on social media to ensure maximum exposure, making it possible for sellers to receive thousands of orders a day.
Add to cart and place orders
The next critical element that is staple to an online marketplace app is the option to add a product in cart and place order. The key thing to remember here is that irrespective of which device the user is opening your app from, the items which are there in the cart should be there for them to place an order.
In terms of placing order, you can look at two options – 1. Mandatory login and 2. Guest purchase, which doesn't require people to log into the application. The choice between them would depend on the business model you are opting for.
Multiple payment gateways
When you create a shopping app like Temu, you should give your users multiple options in terms of making payment. It can range from debit and credit cards, cash on delivery, digital payment apps, or even buy now pay later. While it is good to have a mix of these options, the choice can also be made based on competitor analysis and users' choice.
Order management
The next part of the features of online shopping app similar to Temu lies in an order management page which enables users to cancel, modify orders after placing them, in addition to giving them a dashboard view of all of their orders – details and status.
Analytics and reporting
This part of the application is focused on the applications' admins. Through the feature, the admin can manage product listing, inappropriate reviews, look at the customer service chats and the redressal of customers' complaints.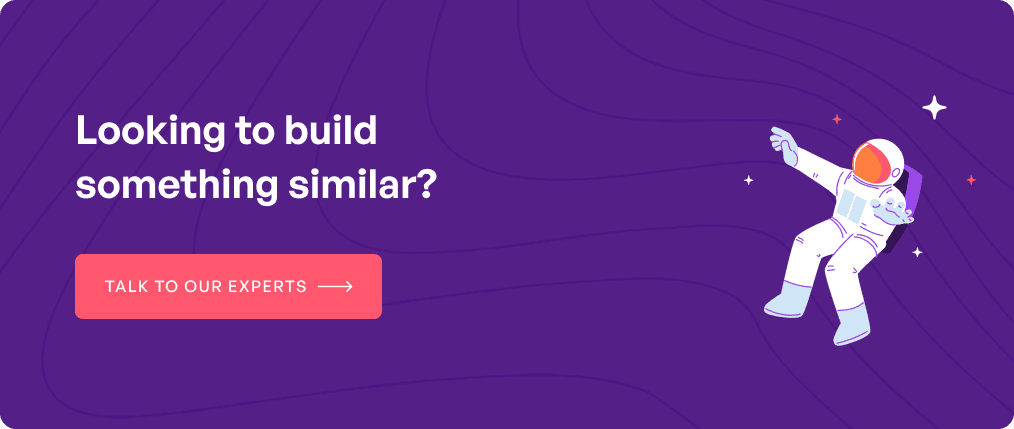 The design essence of creating an app like Temu
While the focus of Temu is on differentiating itself on price point, it is slowly becoming evident that the way to get a competitive edge would be to have a better design. The application is not very minimalistic or even intuitive in nature since they place multiple items in one screen.
What we would advise is incorporating a design that has ample white space for people to see the details, alongwith this, there should be industry accepted icons which make it organic for the users to move in-app.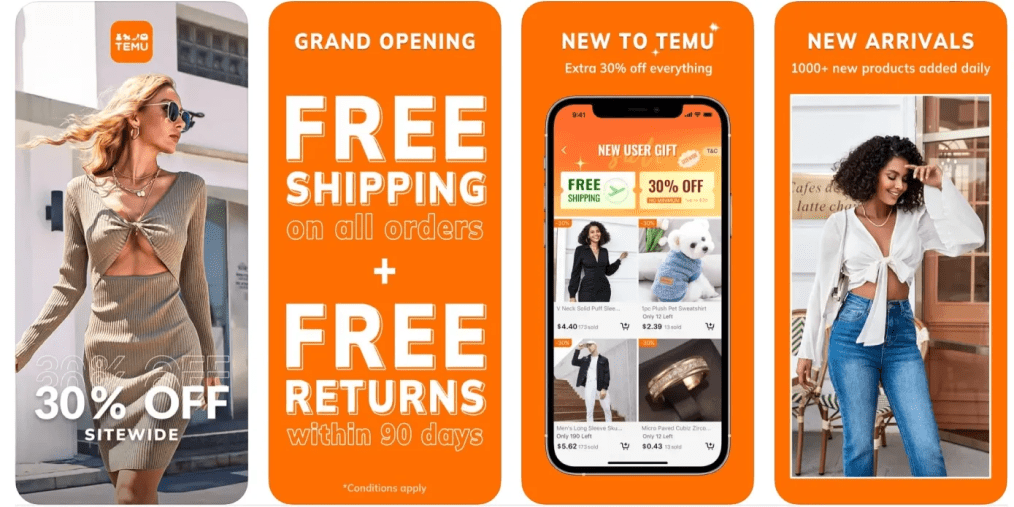 With this, we have looked into the multiple aspects of the cost of making eCommerce app like Temu. However, it is important to re-talk about the fact that the cost of these custom mobile app development services would vary greatly on the basis of the platforms you are opting for, number of developers, designers involved in the project, design complexities, and the integration of technologies like AI or AR/VR in the application. 
As we conclude the article, let us quickly look into some additional features or factors that we would have added in your Temu like app, if you had partnered with our eCommerce app development company. 
Incorporation of AR/VR to make it easy for users to try the items before buying

Guest checkout not forcing users to sign in 

Advanced recommendation system giving users suggestions of what would go with their buy 

A minimal design system with organic user movement elements.
FAQs
How long does it take to build the Temu app?
The time to build a Temu like application will depend heavily on the number of platforms the app will be active on, complexity of the features, design elements, and the team structure. For a simple app, it can generally take anywhere between seven to twelve months.
How much would it cost to develop an app like Temu?
Like time, Temu-like online shopping app development cost would also depend on the features, complexity, design elements, and the number of platforms, technologies. Going by the details mentioned in the article, it can cost anywhere between $50k to $120k.
What platform does Temu use?
Temu is active on Android, iPhone, and web platform.